I write this post with a deep agony and disappointment over the HUMANITY, please read and i feel every Indian perhaps every human must think about this at least once in their life time, PAIN is NOT an EXCLUSIVE thing..
1) 73 CRPF MEMBERS KILLED @ Dantewada.
2) 14 policeman and 1 civilian killed @ Nayagarh(Odissa).
3) 55 Security personnel killed by Naxals @ Chattisgarh.

4) Maoists blew up schools in Jharkhand.
5) Maoists destroys rail tracks and abducts people.
These are just some pieces of the RED WHALE, where do we live ? What is the use of portraying as LARGEST DEMOCRACY in the world ? we live everyday in a fear, whose mistake ? it is certainly our own mistake. Some maoist leader was killed in yesterday's encounter. remember maoist is an UNIT AGAINST STATE. though state and center are ruled by politicians, we are invisible members and feeble fellows in those states.
That maoist star leader is killed in an encounter, certainly a good news, just because of him and his rebel group, how many policeman got thrashed ? how many nights their family suffered without peace ? how many wives lived with a fear ?? How many children lost their father ? ? No one knows and no one wants to know about it.
I don't have anyone living in the either groups, whatever group they are, POLICE or REBELS, they have and all over people have few things common, PAIN is one among them and worst among them.
I don't hate those rebels neither policeman, i just hate the invisible power which is motivating rebels to wrong side, so called maoist sympathizers, WILL YOU SYMPATHIZE FOR THEM WHEN YOUR SON FIGHTS FOR NATION ??? when you are justifying their activities, you are justifying NATIONS INTEGRITY AND NATIONAL SECURITY, MAOISTS are certainly threat to HUMANITY.
Maoist kills a policeman, his family suffers. Now one maoist leader killed, his family rejoices ?? NO YOU PEOPLE ALSO SUFFERS, what's that you infer ? ALL OF US ARE HUMAN, why you people are killing innocent civilians and damaging government property and brain washing youths ?
Niece of the slain maoist leader says " INJUSTICE ", then killing a policeman who has a son,daughter and a wife is JUSTICE ?? SHAME..
VARAVARA RAO, i really don't know who he is, he calls himself as maoist sympathizer and deliberately says " MAOIST MOVEMENT WILL CONTINUE ", is this a statement or a warning ? what the government doing by watching this ?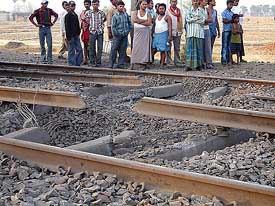 IF YOU ARE A REAL REBEL, go show your powers against ARMY and POLITICIANS, why troubling innocent civilians by bombing schools and railway tracks ?
You dint see the pain of seeing loved one DEAD, now you realize how hard it is... is it easy to loose a family member ?? when you killed policeman, the same happened, when you killed civilians the same happened and when police kills your LEADER, same is HAPPENING TO YOU, PAIN IS UNIVERSAL !
FUNNY PEOPLE are those HUMAN RIGHTS ACTIVISTS, where were they when schools and tracks are blown ? WHERE WERE THEY WHEN A POLICEMAN HEAD WAS FOUND ON ROAD ??? now why the hell you are shouting ????? so you justify police are not humans ??
SHAME ON YOU ! SHAME ON YOU !!
Mother of that KILLED rebel CRIES and their families alike that MOTHER of all the policeman cried, how it feels to see a son who went to save his nation inside a COFFIN ? not just 1, you people killed 73 police forces once, 73 mothers cried till they have tears.
They are also humans, you are crying now WE CRIED and CRYING and WILL CRY.
I don't know where this nation march towards, when will this tension ease ? but till that, OUR FATE IS TO LIVE IN THIS TROUBLED EARTH and our fate is designed in a way that PAIN is inevitable till the peace is achieved !
My dear government, HAVE A NICE SLEEP, SLEEP well, here our soldiers are dying and our ARMY which is best in the world for us is SAFEGUARDING OUR BOUNDARY and DON'T FORGET THEY ARE SAFEGUARDING THESE REBELS TOO :(