You don't need a MBA degree or CAT score to understand and realize few concepts with in MBA, there exists a funny and true saying which quotes, Dhirubai Ambani who had no degree in MBA or BBA maintained and developed his firm to a fine stage, which was not sustained and followed by his kins, who finished MBA at premier institutions !
Well, its time to move on from academics...
So what is cycle ? Cycle is a vehicle which has 2 wheels and helps us to move from a place to another place, oops sorry... BLAH BLAH.
Keep is simple, cycle is nothing but a series of incidents from its beginning to an end.

Product life cycle, is pretty familiar over the administrative people.
it deals about the peak and fall of a product, why i am blabbering all these here ?
I have a relation with that, can be called as temporary relation(as of now)....

My modified understanding as follows:

1)A product has multiple stages from its entry to end, at the entrance it will undergo serious competition from rivalries and it has to sustain the fight in order to survive and to face so many obstacles.

2)Once it satisfies the tough fight, it has got some development stage, by failing in certain criterion it will understand HOW STUFF WORKS and also it will try to rectify the mistake.
As a legend said, GOOD JUDGEMENT COMES FROM EXPERIENCE AND EXPERIENCE COMES FROM BAD JUDGEMENT !
3)Peak time, now everyone will praise the product and will write stories which will extend to pages.
Such a great product, wonderful product, class range product etc etc. even if it comes with flaws, people will not mind it, because it was an established product.
4)Decline, now this fruit tastes bitter. by this time, people will get bored of this product, "What yaar? always eating Dosa. lets try PIZZA:P"
That attitude will roll and by that time, that product faces a DECLINE.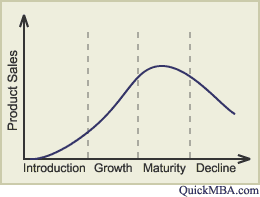 WHY I AM WRITING/Blabbering this ?
I can relate this to my blog, at the time of entry i faced serious troubles, none will come to comment and none will appreciate, i sustained that part and committed mistakes, tried learning from them, for sometime remained as a successful blogger, few newbies came to me for tips, i was surprised.
And then, there came this question, BLOGGING BLOGGING BLOGGING? whats there ?
SO there i gave a gap and i lost 50% of my interest and also due to some poor network and lack of time, i skipped my blog routines, my visits got declined, ranking declined....

This is a virtual world, people will talk for a day about our presence, then they will carry on their works, that's how things revolves here and that's the only way to keep us alive :)

There are very few things which remains as an example for exception, among them "A FAMOUS PRODUCT is GREED TO LIVE".
Be it at a baby stage, youth, middle aged or aged... the greed of living some more time never diminishes.
Certain greed lies as an exceptions :)

That's it, PRODUCT(people) life cycle redefined :)